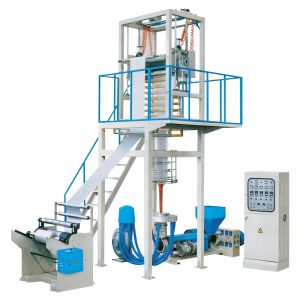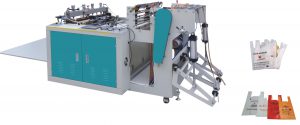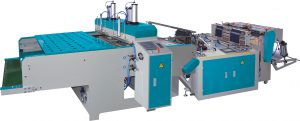 机器特点
 该机具有四种功能(软式手挽袋、派奇贴片袋、穿绳波丽袋、顶折冲孔袋)此机器是结合机、光、电、气一体化的
新产品。超级的技术,高科技的研发,重大的塑胶产业贡献。(国内唯一)
1、适用于生产侧封型高低压塑胶手提袋(BOPP亦适用)。
2、独家设计之液晶大萤幕,特殊伺服马达送料,PLC集中控制系统。
3、软手挽及贴片从整卷到烫合调整全自动完成,手提承受力高(专利)。
4、印刷电眼结合高科技的电脑控制,容易操作的发明设计 。
5、特殊花纹的预热刀,双面加热,熔合力强,袋子不变形,容易调整的设计。
6、采用最优的封刀品质,高温加热不变形,人性化的结构加速设计,快速翻转,清洁简单。
7、加热式冲孔设计,容易切断,废料自动脱落,(专利)。
8、可选购单张膜对折架设备
9、可选购塑料硬手把装置
The machine has four functions (soft hand bag, Paige patch bag, string piercing bag, top folding punching bag) This machine is integrated with machine, light, electricity and gas
New product. Super technology, high-tech research and development, and major contributions to the plastics industry. (The only one in China)
A
1. Suitable for the production of side-sealed high and low pressure plastic handbags (bopp also applies).
2. Exclusively designed large LCD screen, special servo motor feeding, PLC centralized control system.
3. The soft handle and patch are automatically completed from the whole roll to the ironing adjustment, and the carrying capacity is high (patent).
4. Printed electric eye combined with high-tech computer control, easy to operate invention design.
5. Pre-heating knife with special pattern, double-sided heating, strong fusion force, no deformation of bag, easy to adjust design.
6. It adopts the best sealing knife quality, high temperature heating does not deform, the humanized structure accelerates the design, fast turnover, and simple cleaning.
7. Heated punching design, easy to cut off, waste material automatically fall off, (patent).
8. Optional single film folding frame equipment
9. Optional plastic hard handle device
| | | |
| --- | --- | --- |
| 型号 | Model | BH-RF800ZD |
| 制袋长度 | Bag length | 250-750mm |
| 制袋宽度 | Bag width | 250-600mm |
| 顶折边 | Top hem | 50-75mm |
| 底插边 | Bottom insert | 20-70mm |
| 薄膜厚度 | membrane thickness | 0.04-0.1mm |
| 制袋速度 | Bag making speed | 软式手挽袋 60pcs/min |
| 派奇贴片袋 | Paige patch bag | 60bags/min |
| 穿绳波丽袋 | Threaded Polly Bag | 70bags/min |
| 顶折冲孔袋 | Top folding punching bag | 75bags/min |
| 总功率 | Total power | 11KW |
| 机械尺寸 | Mechanical Dimensions | 8200×3100×1870mm |
| 机械重量 | Mechanical weight | 3500kg |
| 空气压缩 | Air compression | 7HP |